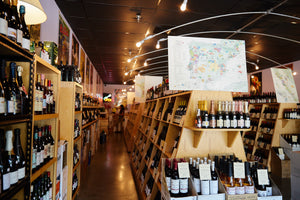 Asheville's Neighborhood Wine Shop
Specializing in estate-bottled wines from small family owned and operated wineries.
About our Wine Store
ARTISANAL WINES AT AFFORDABLE PRICES
Whether it be vin de table in France, vino da tavola in Italy, vina de mesa in Spain or just table wine in the U.S., every country has its own designation for honest, affordable and delicious wines that are consumed on a daily basis at the dinner table. Although we stock many premium wines, the average bottle price is about $15, and there are easily over 150 wines available for $15 or less. In total, we stock nearly 800 different wines so we've got something for every type of wine drinker.
Get to know us
Client Testimonials
Lots of wine lovers have great things to say about Table Wine.
★★★★★

"I cannot say enough about Table Wine. I learned more about wine in fifteen short minutes, and I walked away with some fantastic selections. David is an absolute wordsmith in his knowledge and his descriptions are nothing short of poetry. I enjoy that they specialize in smaller vintners and increased focus on sustainable wines. Finally, the prices are very approachable, with many bottles in the $15 or less range."

Erik A.
★★★★★

Table Wine is the perfect wine shop, the place we hoped to find in Asheville after moving here from the Washington, DC area.  Josh, the owner, is extremely knowledgeable about wines from all areas. He tastes every wine before he brings it into the store so that he is able to recommend wines based on a customer's specific needs and palate. He specializes in highly rated wines at affordable prices. Josh is very good at tracking down wines for us that we have read reviews on and want to order. We highly recommend shopping at Table Wine...there's no need to go anywhere else!"

Les N.
★★★★★

"Fantastic and seamless service! We ordered entirely contactlessly via email and received wonderful recommendations from Josh and the team. They were super responsive and made pickup easy and safe. Wonderful selection and prices--highly recommend if you are ever in Asheville!"

Colette E.
★★★★★

"From the first day I visited Table Wine, I felt as though my good friends had opened a store. They are warm, friendly and very knowledgeable. Get on the mailing list and trying their tastings! See you there!"

Lara W.
★★★★★

"This is the best wine shop in Asheville! Table Wine has such a great selection of natural wines and the owner knows everything you want to know about the winery, the producers, the region, etc. I couldn't be more impressed! They are my #1 wine shop!"

Sabrina K.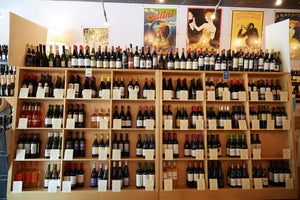 A few friendly reminders
Discount, return, and hold policies
Please review our policies on returns, holds, and discounts.
Alcohol is a highly regulated industry, and we adhere to all local, state, and federal guidelines.
Store policies